A Member of the Registry of Guitar Tutors
Teaching in Northants for over 18 years
or
Online lesson's are available via webcam
on Skype/Messenger or any webchat medium

IS LEARNING THE GUITAR DRIVING YOU NUTS?
Relax, its not that difficult when you go to the right tutor!
Guitar Tuition with Chris Summers
10am 'till 10pm pm Monday to Friday
9.40 am 'till 1.30 pm Saturday
£14.00 for a half hour lesson
20% discount for booking 10 lesson's in advance
Birthday & Christmas vouchers available

A Professional Musician & Music teacher with over 50 years of experience of playing the Guitar & 18 years teaching. I teach acoustic or electric, beginners up to intermediates & advanced players, right from young children up to OAP's. I teach in a relaxed quiet music studio, with no distractions. I've worked in all styles of music, I've been in loads of bands, & worked as a studio session musician. I can teach & advise you what you need to play in a band, how to play Lead or Rhythm, what amps, guitar fx to use etc.
Been playing a while but tired of banging around that old Pentatonic box scale. Then come along and learn Scales, Modes, Chord structure etc and find out how the guitar really works and how to make it sing for you!!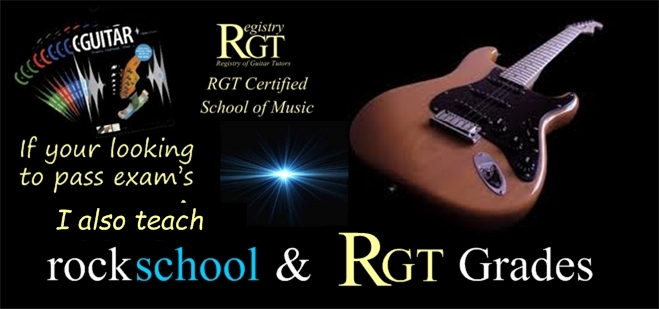 You can learn on the Acoustic Guitar, or the Electric, using effects and getting the sounds that your Guitar hero's use, I'll listen to what you want to play, and adjust the lesson's to suit your needs.
Learn how to read TAB, Play Scales, Fast intricate lead. Explained in an easy to understand way, backed up with diagrams and MP3, and computer programs. Play Rhythm or Lead along with Drums and Bass at various levels and speeds, and build up your confidence and ability in easy stages. Then take it all home on a CD to practice at your own leisure. Easy to follow homework text and diagrams so you can carry on the tuition at your own pace at home!
I TEACH OVER 50 STUDENTS A WEEK with methods that make it fun and interesting, but get serious results. & 90 percent of my students have been coming to me for over 2 years,
I've taken many through the grades from an early age to High grades before leaving school
I'm always very busy, but always have a few slots available over the course of the week. Call me anytime for a chat.
Excellent rates (£14.00 per half hour lesson) , and friendly one on one teaching, Clean and warm purpose built studio, Amplifiers and guitar effects supplied. Youngsters bring your parents along, most of them end up learning too!!


Call me on 01933 384301 or mobile 07745982546
email chrissummers6@hotmail.co.uk